Something came in the post today that people were discussing a while back, so I thought I'd share: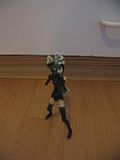 Christmas came early for Howling it seems!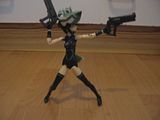 Yep, she definitely likes the new guns! What do you mean "They look a bit big"? They look badass to me...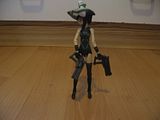 Hm...? What's wrong Howling? What's suddenly gotten your attention?
Ahh, those... What? You want me to build them? Okay...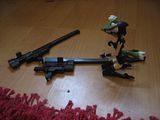 There you go... Set up for left and right shoulder mounting as well!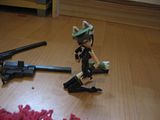 Can you have them? Uhh... Sure I guess, but they wont fit on your armour... What do you mean "We shall see!"? I don't how you said that Howling...
A view of what you get in the set: 1x revolver handgun (GAN01-SS-WH.E) 1x shoulder mounted cannon (061ANSC) + an extra arm for said cannon to allow mounting on either shoulder.
And finally, a quick (blurry) size comparison to some actual Shinki handguns. (Arnval, Werkestra and Waffebunnys to be precise)
When I get some more colours, I'll be giving these guns a lick of paint to bring out more of the details better. They are very nicely detailed.